Vision
To establish a regional surveillance consortium to support decisions about the use and impact of meningitis vaccines across sub-Saharan Africa.
Mission
Leverage the strengths of existing surveillance capacity in the region using standardized laboratory and data collection tools
Develop innovative systems to collect and analyze high quality data to answer critical questions and promote data-driven policy decisions
Use the consortium as a platform for regional collaboration and scientific studies
Impact
In MenAfriNet countries in 2017, 89 percent of suspected meningitis cases had a specimen that was collected, transported, and tested at a national reference laboratory. By way of comparison, in 2012 the rate of specimen collection among suspected meningitis cases in Burkina Faso and Mali was 11 percent.²⋅³
MenAfriNet surveillance detected and confirmed a cluster of serogroup A cases in Burkina Faso in 2014-2015, including the first (and so far, only) documented MenAfriVac® vaccine failure. These findings resulted in an expedited introduction of MenAfriVac® into Burkina Faso's routine immunization program in 2016.⁴
In 2015, in response to a large serogroup C outbreak in Niger, MenAfriNet deployed 15 technical partners, a mobile laboratory, and a high-throughput laboratory diagnostic tool and funded 13 short-term national staff. This surge capacity enabled timely laboratory confirmation and facilitated mobilization of reactive vaccination campaigns to protect 1.2 million people from serogroup C meningitis.⁵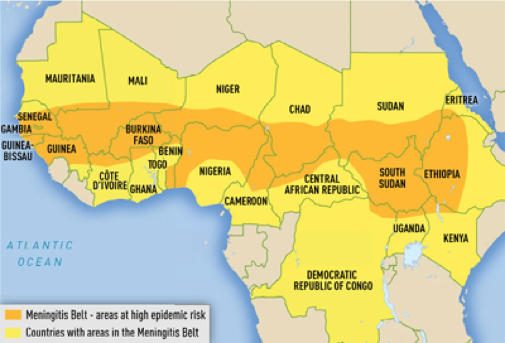 ​
The African meningitis belt. Image credit: Centers for Disease Control and Prevention
1. Bwaka A, Bita A, Lingani C, et al. Status of the rollout of the meningococcal serogroup A conjugate vaccine in African meningitis belt countries in 2018. J Infect Dis 2019; 220(Suppl 4):S140–7.
2. Centers for Disease Control and Prevention (2012). "Evaluation of meningitis surveillance before introduction of serogroup a meningococcal conjugate vaccine - Burkina Faso and Mali." MMWR Morb Mortal Wkly Rep 61(50): 1025-1028.
3. 2018 MenAfriNet Surveillance Feedback Bulletin. www.menafrinet.org.
4. Diallo AO, Soeters HM, Yaméogo I et al. Bacterial meningitis epidemiology and return of Neisseria meningitidis serogroup A cases in Burkina Faso in the five years following MenAfriVac mass vaccination campaign. PloS one 2017;12:e0187466.
5. Sidikou F, Zaneidou M, Alkassoum I et al. Emergence of epidemic Neisseria meningitidis serogroup C in Niger, 2015: an analysis of national surveillance data. Lancet Infect Dis 2016;16:1288-1294.
​