Strategic Approach
Partnership through MenAfriNet has been key to strengthening regional surveillance, gathering high quality data and conducting research to answer critical questions across involved countries. More than 100 partners from approximately 30 organizations participate in the MenAfriNet Consortium to focus activities and resources toward a common goal. The success of this partnership has strengthened momentum toward ending epidemic meningitis as a public health concern in sub-Saharan Africa.
MenAfriNet's strategic approach is guided by a number of critical questions:
What is the amount of vaccination required to achieve community immunity from MenAfriVac® and how long will it protect unvaccinated groups of people?
What are the implications for future vaccine policy and decisions about the strategies for implementation of new vaccines?
What indirect protection will be afforded by new vaccine options and what will be the most effective vaccination strategy to generate adequate herd immunity and protect unvaccinated cohorts?
Are there changes in genotypic distribution of meningococcal strains over time following multivalent meningococcal conjugate vaccine introduction?
MenAfriNet uses an innovative approach to evaluate vaccines through strengthening meningitis surveillance and promoting country ownership. Our activities enhance epidemiology, laboratory, and data management capacity through:
A common framework of protocols and tools
Appropriate technology transfer
Laboratory, surveillance and data management training
Assessment and monitoring
Ongoing technical assistance and mentorship to improve data quality, analysis, and response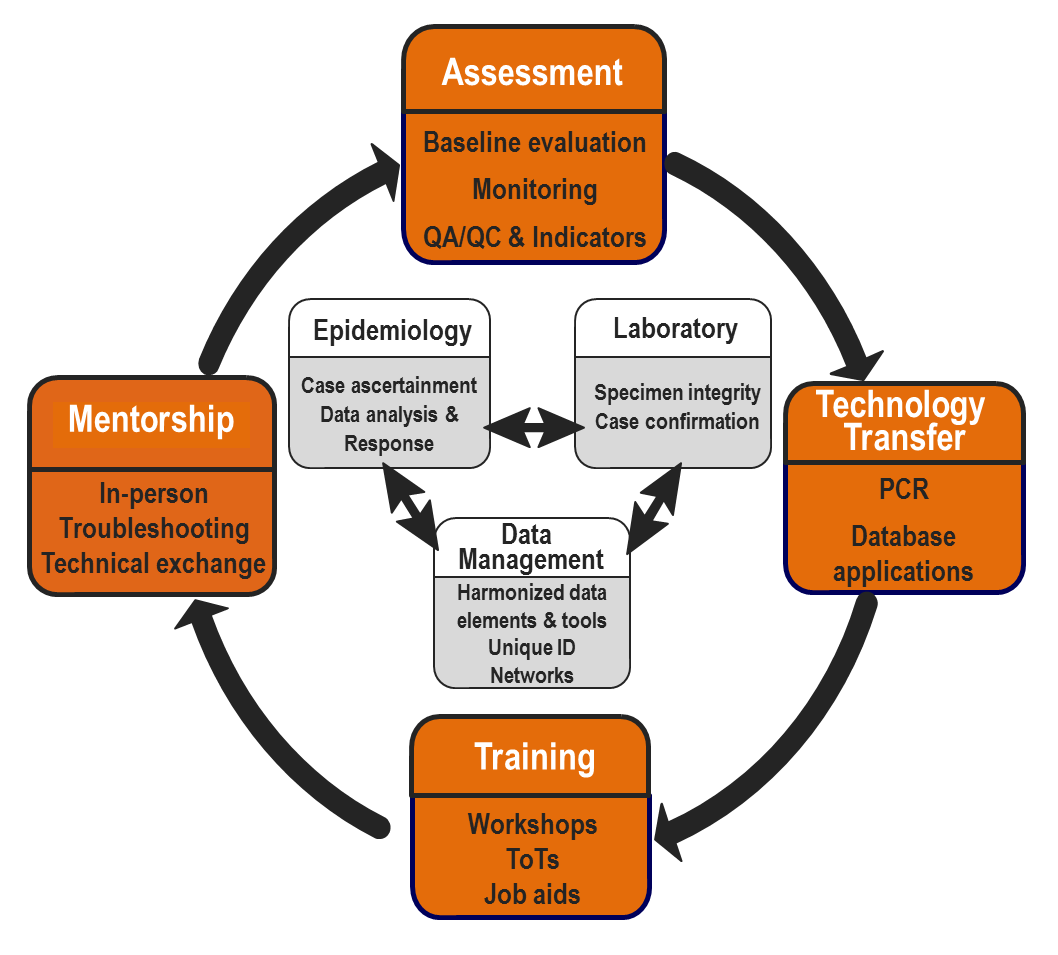 ​
Assessment technology transfer training and mentorship are the key areas of the MenAfriNet strategic approach. Photo Credit: MMWR (2012) v.61 No. 50
Using this approach during phase I (2014 to 2018), MenAfriNet has improved the quality and timeliness of meningitis surveillance data in five West African countries (Chad, Burkina Faso, Niger, Mali and Togo) resulting in improved vaccine program decision-making. These five countries have served as a model across the Meningitis belt. Data are regularly published in the MenAfriNet Surveillance Bulletin and WHO Weekly Epidemic Bulletin and have been used to:
Inform use of meningitis vaccines to protect new birth cohorts through routine immunization programs and catchup campaigns
Detect and guide response to non-A meningococcal epidemics, including epidemics caused by Streptococcus pneumoniae
Inform development and implementation plans for future vaccines
Develop an understanding of indirect protection offered by meningitis vaccines
Phase II of MenAfriNet (2019 to 2023) will continue to build on, and strengthen, these efforts by strategically partnering with eight countries: Mali, Chad, Nigeria, Togo, Benin, Burkina Faso, Niger and Ghana. The MenAfriNet Consortium will work together with these countries to enhance technical capacity for meningitis surveillance, monitor vaccine effectiveness and carriage, and prepare for future vaccine implementation. Of these countries, Niger and Burkina Faso were selected by the consortium as core countries as they consistently experience some of the highest rates of confirmed meningitis cases, share borders with all strategic countries, and are considered at a high-risk for large-scale outbreaks.
MenAfriNet tools, procedures, and technical assistance have also been leveraged regionally to strengthen meningitis surveillance and epidemic response in Ghana, Guinea, Liberia, and Nigeria. Many of these resources are now publicly available in English and French as the MenAfriNet Toolkit.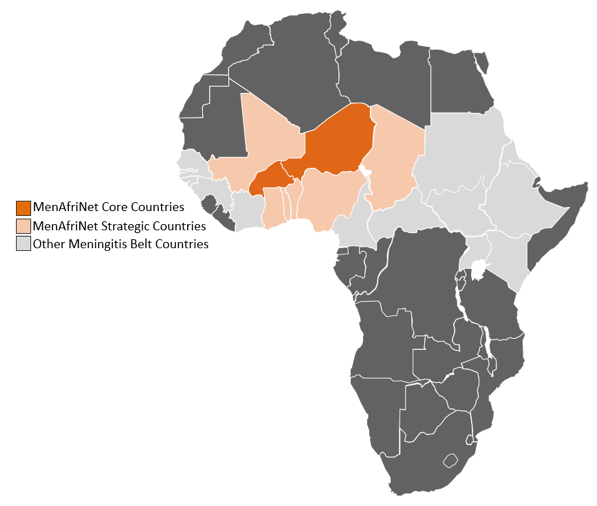 ​
Map of MenAfriNet core and strategic countries. Photo Credit: MenAfriNet