World Meningitis Day 2021: Improving Meningitis Surveillance in Burkina Faso
Imagine losing a loved one to a tragic illness like meningitis, an illness that still ravages parts of the world. Meningitis represents a daunting and deadly health challenge for Africa, but today there is hope. April 24th—World Meningitis Day—presents an opportunity to both raise awareness about the dangers of meningitis and build on progress that has been made against this dangerous threat. With respect to the immense progress made thus far, this year's World Meningitis Day theme is 'Defeating Meningitis.'
Meningitis, a devastating public health threat
Meningitis is an infection that causes inflammation of the protective membranes covering the brain and spinal cord. Several pathogens, mostly viruses and bacteria, can cause meningitis. Bacterial meningitis can be fatal and survivors of the illness can be left with long-term disabilities, like deafness or brain damage. Approximately 2.8 million cases and over 300,000 deaths related to meningitis occur globally each year according to PATH, despite availability of a vaccine against meningococcal A (NmA), the most common type of meningitis in Africa. In Africa, for greater than a century, epidemic meningitis has posed a recurrent threat for over 450 million people in the 26 countries across the sub-Saharan region of the continent known as the "meningitis belt." In 2010, the introduction of a novel NmAconjugate vaccine (MenAfriVac®) brought hope to eliminate all NmA outbreaks of this devastating public health threat.
One physician's passion for ending epidemic meningitis
​
Issaka Yameogo, MD, MPH, serves as the director of the Epidemiological Surveillance Department at the Ministry of Health in Burkina Faso, one of the countries within the meningitis belt and the first country to introduce MenAfriVac®. Since 2014, he has worked in close collaboration with partners and other Ministry of Health staff to define the strategic guidelines for surveillance of meningitis and ensure a strong national health system capable of rapidly responding to outbreaks. The passion and inspiration he feels towards helping prevent meningitis across Burkina Faso is deeply personal.
I have always wanted to work in the fight against diseases with epidemic potential in general, and meningitis in particular, because in my childhood I lost a very brilliant cousin due to meningitis, and that truly moved me." said Dr. Yameogo. "Since I was very young, I wanted to be a health worker, a doctor to treat people. Then the training in epidemiology followed. Fortunately, I was quickly assigned to a disease surveillance post, which especially focused on the fight against these contagious and rapidly fatal diseases. I now find personal satisfaction in it, a feeling of helping the health of our populations.
Despite the success of MenAfriVac® to eliminate meningitis outbreaks due to the NmA pathogen, Dr. Yameogo added that Burkina Faso continues to experience significant burden of the disease and threat of epidemics due to other bacterial meningitis pathogens. For example, in 2019 a meningococcal C (NmC) outbreak swept across eastern Burkina Faso prompting fears of a widespread epidemic, as had occurred in neighboring Nigeria and Niger in prior years.
Burkina Faso, bacteria, and barcodes: Meet STELab
Fortunately, there are several new strategies on the horizon to address the remaining burden of bacterial meningitis. To build more protection for children against thirteen different serotypes of Streptococcus pneumoniae, another family of pathogens that causes bacterial meningitis, a change in the schedule of the PCV13 bacterial meningitis vaccine administration is currently being implemented. Additionally, a new longer-lasting vaccine against several types of meningococcal meningitis (including NmA and NmC) is in development. To continue building upon these efforts and respond rapidly to current outbreaks, immediate access to quality data is a necessity. For Dr. Yameogo and his colleagues, a key solution to this need and to continuing Burkina Faso's fight against meningitis came in the form of a new case-based data management system. Using barcodes, the System for Tracking Epidemiological Data and Laboratory Specimens (STELab) in Burkina Faso allows for timely nationwide meningitis data reporting and tracking of cerebrospinal fluid specimens as they are transported across the country. STELab provides health staff with real-time data suitable for the rapid detection of epidemic outbreaks and the pathogen causing them. It improves promptness with case-based data transmission and reduces the workload of health staff, all of which ultimately contribute to a reduction in deaths from meningitis.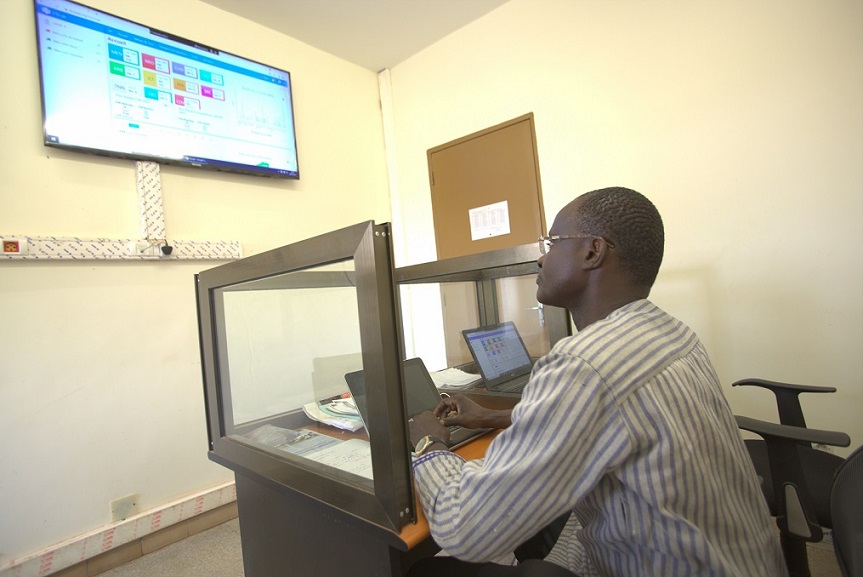 ​
STELab was first implemented on a national level in 2017 by the Burkina Faso Ministry of Health, along with Davycas International and CDC. Many other partners from the MenAfriNet Consortium were also closely involved in the implementation. With an initial grant from the Bill & Melinda Gates Foundation in 2013, the MenAfriNet Consortium was established to unite multiple institutions to initiate a regional meningitis surveillance network in sub-Saharan Africa. The MenAfriNet Consortium includes the CDC Foundation, CDC, the World Health Organization-Regional Office for Africa (WHO-AFRO), Davycas International, ministries of health from the region, and other non-governmental agencies with expertise in meningitis surveillance in the meningitis belt.
There were many challenges with rolling this system out nationwide in Burkina Faso but working with partners helped to ensure that the rollout was successful. Now in its second version, STELab is capable of recording case-based data for a number of diseases. This capability is a source of pride for Dr. Yameogo, who noted that STELab 2.0 is contributing to a marked reduction in the multitude of different software that must be used by health staff across the country. This year, despite the current challenges faced by the global health community, STELab 2.0 will also be rolled out across Niger. Dr. Yameogo and his colleagues celebrated this development, noting, "When we learned that STELab will also be adapted and deployed in Niger, we understood that we made the right choice with this system, which was entirely thought out, designed, and implemented by our fellow citizens [at Davycas International and the Burkina Faso Ministry of Health]."
Optimism in the fight against meningitis
Along with STELab, Burkina Faso has taken strong steps to prevent meningitis outbreaks by developing annual meningitis epidemic preparedness and response plans, maintaining the epidemiologic and laboratory surveillance of each individual suspect case of meningitis, and disseminating weekly situation reports about meningitis across the country. On a global scale, the development of the Defeating Meningitis 2030 Roadmap was completed and it was recently endorsed by the 73rd World Health Assembly. Dr. Yameogo and his team agree its release will serve as a valuable asset in continuing the fight against meningitis. In a World Health Organization-led, multi-organizational partnership, this 2030 Roadmap spells out the global strategy to defeat meningitis by 2030 using a multi-disciplinary, integrated approach.
With these pivotal interventions on the horizon, when asked about the future of meningitis in the country, Dr. Yameogo is optimistic: "The fight against meningitis in our country is long-term and continuous, and the country will continue to maintain and strengthen these control actions."